An extraordinary lifestyle demands an extraordinary debit card. With an HSBC Premier Debit Card the world's your oyster. Purchase whatever your heart desires at literally millions of merchants around the globe. And as well as being versatile, it's also easy to use. Step into a world of opportunity with an HSBC Premier Debit Card and experience a life of personalized fulfilment.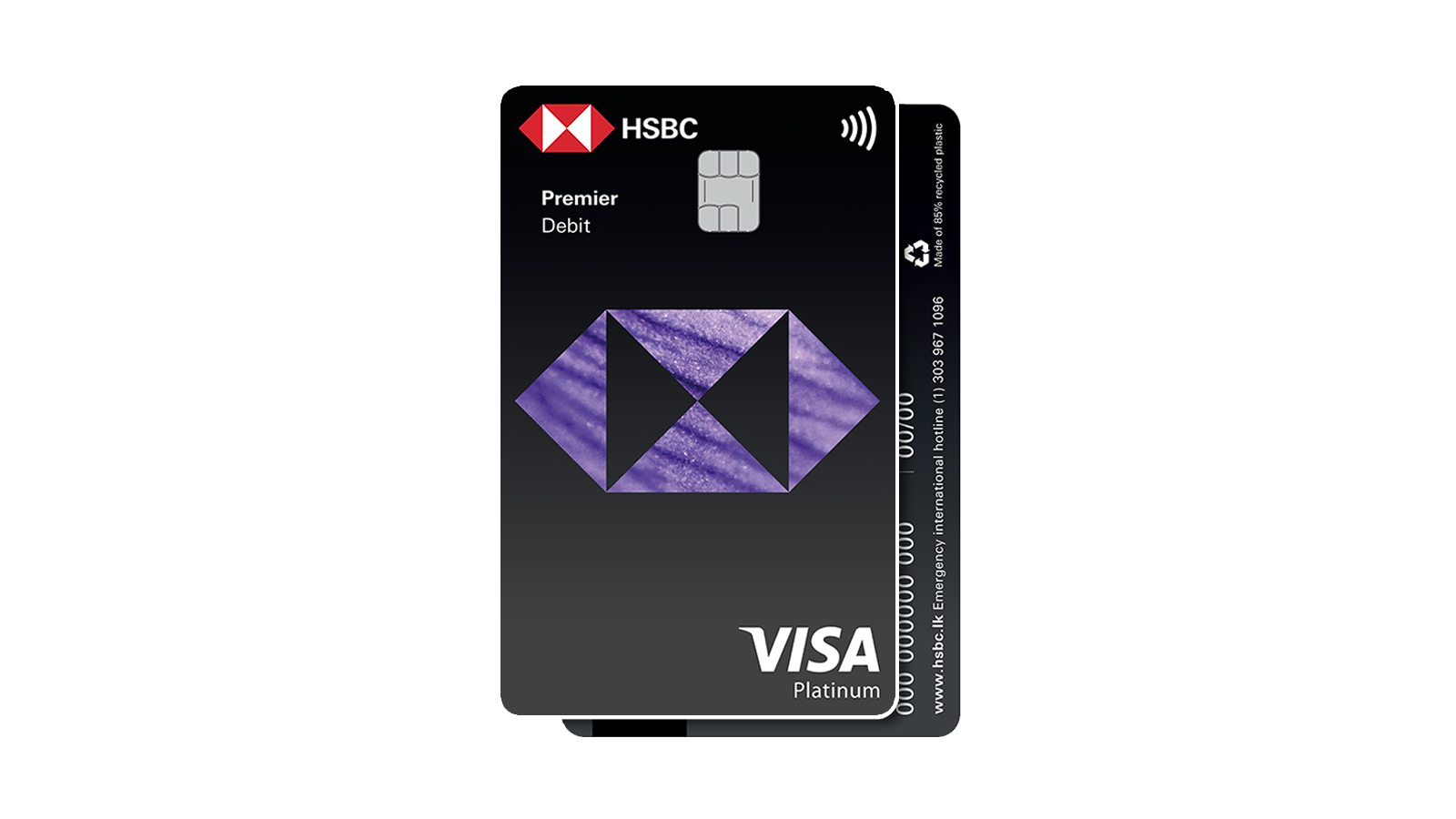 Towards a sustainable future
Since April 2021, we have been issuing environmentally friendly cards made from 85% recycled plastic.
Enjoy flexibility and convenience

Use your Premier Debit Card at more than 13,000 VISA merchant outlets in Sri lanka plus 29 million others across the world.

Free cash withdrawls world wide

Withdraw cash from 1.4million ATMs, anywhere in the world with no withdrawal fees.

Enjoy simpler and easier transactability with tap and go

Contactless payments are designed to make your day easier and more convenient - there's no need to handle cash anymore, just tap and go, its simpler and you can pay in seconds for transactions under LKR 25,000 globally.

Relax with year-round offers

Secure transactions with chip capability

The EMV chip on your debit card authenticates transactions and reduces the chances of fraudulent usage through skimmimg of magnetic stripe. Shop online peacefully with SMS OTP sent before the transaction. be informed via SMS alert after any transaction for free.

Get it all for no annual fee

The HSBC Premier Debit Card is completely free of annual fees
Apply for an HSBC Debit Card
Fees and transaction limits
Debit card fees

| Fee type | Classic (LKR) | Advance (LKR) | Premier (LKR) |
| --- | --- | --- | --- |
| Annual fee | 1000 | Free of charge | Free of charge |
| Replacement fee | 500 | 300 | Free of charge |
Debit card fees

| | |
| --- | --- |
| Fee type | Annual fee |
| Classic (LKR) | 1000 |
| Advance (LKR) | Free of charge |
| Premier (LKR) | Free of charge |
| Fee type | Replacement fee |
| Classic (LKR) | 500 |
| Advance (LKR) | 300 |
| Premier (LKR) | Free of charge |
Debit card daily transaction limits

| Transaction Type | Classic (LKR) | Advance (LKR) | Premier (LKR) |
| --- | --- | --- | --- |
| Purchase | 100,000 | 250,000 | 300,000 |
| Cash Withdrawal | 100,000 | 125,000 | 150,000 |
| Transfers within own accounts | 1,000,000 | 1,000,000 | 1,000,000 |
| Third Party Transfers | 200,000 | 200,000 | 200,000 |
| Utility bill payments | 200,000 | 200,000 | 200,000 |
Debit card daily transaction limits

| | |
| --- | --- |
| Transaction Type | Purchase |
| Classic (LKR) | 100,000 |
| Advance (LKR) | 250,000 |
| Premier (LKR) | 300,000 |
| Transaction Type | Cash Withdrawal |
| Classic (LKR) | 100,000 |
| Advance (LKR) | 125,000 |
| Premier (LKR) | 150,000 |
| Transaction Type | Transfers within own accounts |
| Classic (LKR) | 1,000,000 |
| Advance (LKR) | 1,000,000 |
| Premier (LKR) | 1,000,000 |
| Transaction Type | Third Party Transfers |
| Classic (LKR) | 200,000 |
| Advance (LKR) | 200,000 |
| Premier (LKR) | 200,000 |
| Transaction Type | Utility bill payments |
| Classic (LKR) | 200,000 |
| Advance (LKR) | 200,000 |
| Premier (LKR) | 200,000 |