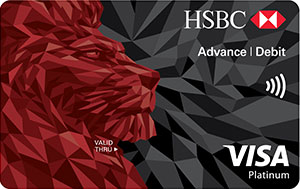 HSBC Debit Card
HSBC's Debit cards can be used at literally millions of merchant outlets the world over, giving you the chance to purchase anything, anytime, anywhere. Our Debit cards are extremely versatile and simple to use, being valid both in Sri Lanka and overseas. Step into a world of possibilities with HSBC's Debit cards and experience the privilege of being a customer of the world's local bank.
HSBC's Debit card can be used at more than 13,000 VISA merchant outlets in Sri Lanka and 29 million across the world

It can be used at over 1.4 million ATMs, anywhere in the world

Visa Concierge service is an exclusive service designed to assist Premier and Advance Debit cardholders with their travel and entertainment needs

For further information Log on to www.visaplatinum.com.
HSBC's Debit card is available for Classic and Premier

The annual fee is at an affordable rate of LKR 1000 for both international or locally valid cards
Apply for an HSBC Debit Card
Fees and transaction limits
Debit card fees

| Fee type | Classic (LKR) | Advance | Premier (LKR) |
| --- | --- | --- | --- |
| Annual fee | 1000 | Free of charge | Free of charge |
| Replacement fee | 500 | 300 | Free of charge |
Debit card fees

| | |
| --- | --- |
| Fee type | Annual fee |
| Classic (LKR) | 1000 |
| Advance | Free of charge |
| Premier (LKR) | Free of charge |
| Fee type | Replacement fee |
| Classic (LKR) | 500 |
| Advance | 300 |
| Premier (LKR) | Free of charge |
Debit card daily transactions limits

| Transaction type | Classic (LKR) | Advance | Premier (LKR) |
| --- | --- | --- | --- |
| Cash withdrawal | 100,000 | 125,000 | 150,000 |
| Transfers within own accounts | 1,000,000 | 1,000,000 | 1,000,000 |
| Third party transfers | 200,000 | 200,000 | 200,000 |
| Utility bill payments | 100,000 | 100,000 | 100,000 |
| Purchase | 100,000 | 250,000 | 300,000 |
Debit card daily transactions limits

| | |
| --- | --- |
| Transaction type | Cash withdrawal |
| Classic (LKR) | 100,000 |
| Advance | 125,000 |
| Premier (LKR) | 150,000 |
| Transaction type | Transfers within own accounts |
| Classic (LKR) | 1,000,000 |
| Advance | 1,000,000 |
| Premier (LKR) | 1,000,000 |
| Transaction type | Third party transfers |
| Classic (LKR) | 200,000 |
| Advance | 200,000 |
| Premier (LKR) | 200,000 |
| Transaction type | Utility bill payments |
| Classic (LKR) | 100,000 |
| Advance | 100,000 |
| Premier (LKR) | 100,000 |
| Transaction type | Purchase |
| Classic (LKR) | 100,000 |
| Advance | 250,000 |
| Premier (LKR) | 300,000 |